Happy Halloween!!!! Today is a great day filled with scary movies, candy, crafting and I have the day off, whoo hoo!!!
Not to mention, something wonderful happened last night: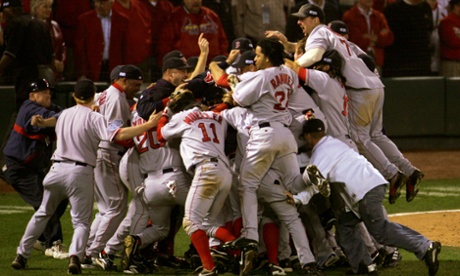 I'm so proud of my boys and their beards for winning the World Series last night! Oh my goodness, this was definitely a nerve racking series. The Cardinals, not to mention the Tigers before them, certainly gave us a run for our money! Shout out to both of those great teams, it was certainly an honor to play with you.
So, here is one last Halloween Treat for you:
These were made using little lunch sacks. I cut a circle out of each one, using Nestabilities, and adhered a piece of clear acetate inside. Then, I added a piece of My Mind's Eye Wicked designer paper.
I made some tiny banners using jute, washi tape, and scraps of designer paper. Then, I embellished the tiny banners with some tiny clothespins, paper punched pumpkins and bats, word stickers, and some tiny button spiders.

Supplies:
Paper: My Mind's Eye, American Crafts, Echo Park, Bazzill
Misc: Jute, buttons, Making Memories Spider Die, washi tape, clear acetate, paper punches, small lunch sacks, tiny clothespins, candy, paper shred, Nestabilities, pop up dots
Have a spooky night and thanks for stopping by,